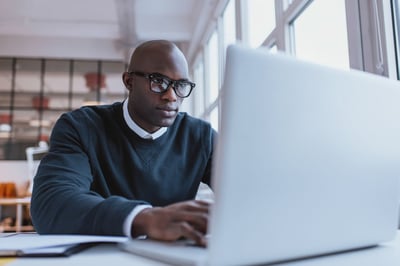 People take different paths in their journeys to become medical writers. Some are scientists and clinicians who come to the field with medical or scientific backgrounds. Others are professional writers who want to leverage their background in communications to write about science and medicine.
All professional writers need to be excellent wordsmiths. However, medical writing requires more than having a way with words. Medical communication is a specialty that requires a familiarity with data, research, ethics, and complex information on medicine and health.
To survive and thrive in the growing and competitive field of medical writing, you need certain essential skills. Don't worry if you lack a scientific background. It is possible to learn and develop these skills to launch your career as a medical writer. Keep reading to learn about the competencies you'll need to succeed.
Are You Qualified?
We'll answer that with a couple of questions: Are you good with words? Do you enjoy learning new things?
The first qualification for a medical writer is that you have a keen interest in sharing scientific and medical information with diverse audiences, including patients, caregivers, scientists, health care professionals, marketers, and educators.
Some medical communicators move into the field from research or health care positions, but not all medical writers start out with an advanced degree. Some build on a foundation of knowledge about medical and scientific topics by seeking out workshops and education geared for medical writers. Many different paths exist for medical writers, including regulatory writing, scientific publications, and patient education.
Well, Prove It
Potential employers are looking to see if a potential hire or a freelancer has what it takes to deliver high-quality documents. AMWA's Essential Skills Certificate Program is one way aspiring medical writers learn to master the basics and beyond. Experienced medical communicators can take an exam to become Medical Writer Certified (MWC).
Many medical writers start out in nonscientific professions. According to AMWA's Ultimate Guide to Becoming a Medical Writer, medical communicators might be writers, journalists, media relations specialists, or educators. It helps to understand human anatomy and physiology, various diseases and treatments, stages of drug development, and the drug-approval process. However, specific medical knowledge is not as important as being a skilled writer, a curious learner, and an excellent team player.
Whether you work for a company or seek work as a freelancer, you'll need to demonstrate that you are organized, that you have the interpersonal skills to get along with others, and that you are attentive to detail.
Essential Skills
How do you learn to comprehend and, in some cases, translate medical language to lay audiences? Medical communicators spend time gathering, evaluating, and conveying complex information to diverse audiences.
AMWA's Essential Skills Certificate Program identifies the following important competencies.
Basic Grammar and Usage
Grammar is one of the most important tools for communicating effectively—and impeccable grammar is a prerequisite for all medical communication jobs. Medical communicators need to know and understand grammar rules, such as subject-verb agreement, pronouns, and comparisons. Like all good writers, they should know how to use verbs to enliven language and how to convey the underlying message of the text using the simplest possible words. Many professional communicators enjoy geeking out on grammar rules. It does not help, however, to use technical jargon or words that make your readers feel confused or unintelligent.
Punctuation
Punctuation is the connective tissue that communicators use to hold together or separate words. Poorly punctuated sentences get in the way of the message, whereas well-punctuated sentences give the reader a path to understanding.
Sentence Structure and Patterns
Doug Haneline, the instructor for the Sentence Structure and Patterns module, says the course "crosses what might be called the San Andreas Fault of writing: half of it is rooted in considerations of correctness (what must be done) and half in considerations of style (what can be done)." Skilled manipulation of structure and patterns can help emphasize different sections and provide clarity for readers.
Medical Terminology
It goes without saying that medical communicators need to use medical terminology correctly. Medical terminology has its own set of rules for forming words, often based in Latin. Writers should be familiar with the common prefixes, roots, and suffixes that appear often in medical texts and journals. Even if they are writing for patients, caregivers, or the general public, medical communicators play an important role in helping interpret and explain medical terminology to people who are less familiar with it.
Tables and Graphs
Data are the foundation of medical communication, and often data appear in tables and graphs. Medical communicators should understand the different functions of tables and graphs and should know how to create them to enhance audience understanding of important information.
Statistics
If you took statistics in college, you might have wondered whether you would use those skills in your career. Medical communicators need to understand statistical methods and results in order to present critical scientific evidence to audiences. This is crucial when writing about medical research studies.
Ethics
Following a code of ethics helps medical communicators understand and follow principles to guide behavior and decisions. Ethical standards—including honesty, confidentiality, objectivity, and fairness—are at the core of all good medical communication. The AMWA Code of Ethics includes eight principles to guide professional behavior. Medical communicators should learn and internalize these principles.
Striving for Editorial Excellence
Medical communicators are entrusted with important editorial tasks that have high-stakes consequences. They need to be able to write clearly, concisely, and understandably to convey critical information to audiences.
Importantly, they need to get along well with others to collaborate on documents and writing projects.
More excellent communicators in this growing field will lead to healthier outcomes for more people. It's a lofty goal, and one worth pursuing.