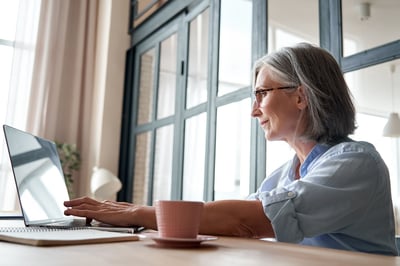 Freelance success is possible. As today's work landscape rapidly changes, more talented professionals are leaving traditional employment settings, or are interested in supplementing their income, and are finding value in the flexibility and economic opportunities presented by freelance work.
Clients are willing to pay top dollar for highly skilled freelance medical writers.
The freelance sector is growing rapidly. A new study from Upwork, a freelance job platform, reports that 59 million Americans participated in freelance work, and 2 million people in the U.S. have started freelancing since 2019. Despite the economic challenges related to the pandemic, the percentage of people earning a living freelancing full‑time has increased from 28% to 36% since 2019. Further data from that study show that new freelancers are more likely to be full‑time, remote, younger, more highly educated, and working in occupations such as finance, business operations, computers, and mathematics.
Opportunities for freelancers are growing, but so is the competition. With more people exploring freelance opportunities, it is even more important for freelancers to master essential skills to manage, maintain, and market their businesses.
In AMWA's 3‑part video series, Unlock the Secrets to Freelance Success, three experts share key insights from decades of experience in medical communications.
1. Managing Your Freelance Business
Just as important as the high‑quality work freelancers can provide to clients is the efficient management of the business side of a freelance business.
Brian Bass, an award‑winning freelance medical writer and founder of Bass Global, provides insight and practical advice for creating and maintaining a successful freelance business. Here are some key takeaways from his presentation:
Successful freelance businesses have the following:
A deliberate and appropriate business structure
Tools, including hardware, software, subscriptions, business cards, a website, and membership in professional associations
A separation between business and personal life
Supportive partners
Appropriate insurance policies
2. Creating Satisfied (and Repeat) Customers
Did you know that asking too many questions or charging too little might drive clients away? Creating mutually rewarding relationships with clients who will keep coming back is essential for freelance success. Sometimes that means providing extra value: sharing a new resource, delivering the project ahead of schedule, or a thank‑you note.
Clients know you are juggling multiple projects, but they should feel like they have the freelancer's undivided attention. Satisfied customers will come back and provide referrals to help build a freelance business.
In Unlock the Secrets to Freelance Success: Bad Behaviors That Can Sabotage Your Business, medical communication consultant Cyndy L. Kryder identifies 12 behaviors that could drive clients away from a freelance business:
Missing deadlines
Invoicing more than you estimated
Charging too little for a project
Avoiding clients' phone calls and emails
Missing the target message or target audience
Delivering error‑filled work
Making excuses for inaccurate or inferior work
Asking too many questions
Being inflexible
Complaining about revisions
Saying yes too often
Exercising poor social media judgment
When a freelancer wraps up a project for a client and delivers an invoice that matches the approved estimate, the client should feel inspired, not exhausted. That's one way to keep them coming back for more.
3. Developing Effective Marketing Techniques
How do you connect with paying clients? Even the most skilled freelancers will not land the jobs unless they understand how to reach clients who will pay what they are worth. Satisfied clients will often become repeat customers, and they may even provide referrals to build a freelance business.
Finding clients is part of a freelance business. That means creating a marketing infrastructure that will help you attract and retain clients. Networking through professional associations can help you meet other freelancers experiencing similar challenges and successes. LinkedIn profiles, AMWA Freelance Directory listings, and websites are all important components of a marketing infrastructure.
In Finding the Clients You Deserve, Lori De Milto, author of The Mighty Marketer: Your Guide to Making More Money as a Freelance Medical Writer, shares the following tips for freelancers:
Develop a strategy for identifying prospects who will pay what you deserve.
Find clients who will give you repeat business and provide referrals.
Create an effective, targeted marketing strategy.
Don't forget: Keep marketing. Even when your schedule is packed, experts recommend marketing your services. Staying visible and having all your public‑facing materials up to date will help guarantee your freelance medical writing business will grow and thrive.