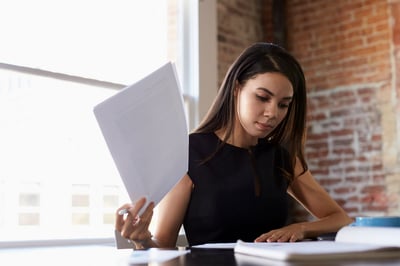 An academic grant writer is a medical communicator who is hired for their medical writing or editing skills to support either an academic scientist or a department (typically within a research institution or university/school).
Grant writers and editors help to ensure that research grant proposals satisfy the funder's guidelines and provide a clear, concise, evidence-based message about why the research should be funded.
In addition, grant writers and editors help to ensure that the grant proposal communicates the significance of the proposed ideas within the broader landscape of a scientific field.
The ultimate goal of the grant writer or editor is to ensure that the science shines through by helping to remove the idiosyncratic writing style of a scientist and allowing the reader to focus on the science.
What Educational Background Do Academic Grant Writers Have?
Usually an MS or PhD in biology, biomedical sciences, or another science-related field
Can have an English major background, but need to understand how science is done
What Knowledge, Skills, and Abilities Are Needed for Academic Grant Writing?
A strong attention to detail
Solid grammar skills
Persuasive writing skills
An understanding of the scientific method
General statistical knowledge
The ability to stay calm and to work under high-pressure deadlines
The ability to manage multiple perspectives of a scientific team
The ability to interact with team members
The ability to follow the rules, even under pressure
A good grant writer must understand the subject matter. This does not mean you must be a subject matter expert, but it does mean that you will need to become very familiar with the subject. You should be able to understand both the data and the conclusions that can be drawn from those data.
As you can see from the multiple, overlapping skills, being a grant writer requires a strong understanding of grammar and science and attention to detail. You also need to be able to ask the right questions and discern the story behind the science.
Who Do Academic Grant Proposal Writers and Editors Work For?
Grant writers and editors may work directly with individual scientists. Each scientist who works with a grant writer or editor dictates the level of involvement required. You should be prepared to help with any or all of the components of a grant proposal.
Grant writers and editors may also work with a group of scientists who collaborate to submit a research proposal. First drafts of major components of proposals may be written by different scientists, and these drafts will need to be incorporated into the final proposal. Thus, it is incumbent on the writer or editor to ensure that the proposal maintains one voice and that specific terms are used consistently.
The Tasks of an Academic Grant Writer
The 3 main tasks of an academic grant writer are writing, editing, and coordinating. These tasks are important whether you are working with an individual or a team.
Writing. Grant writers who have scientific backgrounds related to the proposal may be tasked with writing some of the scientific components. However, most grant writers aren't working in the field in which they trained, and therefore their writing skills are best used to help with the writing of the supporting materials required of all grant proposals. These can include the abstract, budget justifications, descriptions of the facilities, and resources already available to the researcher. They must also ensure that proposal text is clear and cohesive.
Editing. The task of editing can range from copy editing to developmental editing. At the editing stage, an understanding of grantsmanship is essential. Editors should make suggestions on how to improve the proposal, whether by simply creating more white space in the document, changing the placement of figures and tables, or even reworking entire sections. An editor also helps to ensure that the proposal aligns with each of the funder's specific requirements for submission.
Coordinating and managing expectations. Managing expectations may also be considered project management. Grant writers and editors should have a realistic idea of how long specific tasks take, and therefore they can help the scientific team keep to an established timeline to ensure that all internal and external deadlines are met. In addition, grant writers and editors may be able to provide feedback on whether a proposal appears to be overly ambitious in terms of the proposed work.
Academic grant writers and editors provide important support to research scientists. By helping scientists communicate the significance of their research, they play a vital role in securing funding for scientific discoveries.