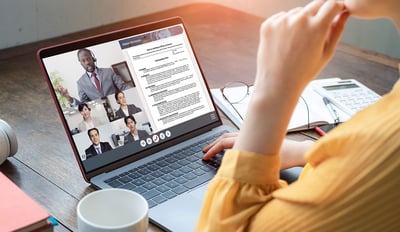 Pharmaceutical companies look to medical advisory boards to help shape the big‑picture aspects of their work. Are their products benefiting patients and health care professionals? Can they do a better job of meeting the needs of patients?
Medical communicators often play a key role in facilitating and reporting on the meetings of medical advisory boards. By assisting with meeting presentations, preparing questionnaires, and creating executive summaries, medical writers provide a shared understanding of the company's brand and direction to all the stakeholders.
Assisting with the smooth functioning of medical advisory boards is a function some medical writers perform.
What Is a Medical Advisory Board?
Medical advisory boards are a key component of a pharmaceutical company's ecosystem. They provide valuable perspective and information on a company's direction. Their meetings often include conversations that lead to insights about unmet health care needs and future clinical studies.
Pharmaceutical companies invite health care professionals (HCPs) and key opinion leaders (KOLs) to participate in medical advisory boards because they are people who have firsthand knowledge of how the existing products are serving the market. Advisors also help companies identify knowledge gaps, launch new products, or reposition themselves in the market.
Most often, it is pharmaceutical companies that convene medical advisory board meetings. Pharmaceutical companies typically work with outside firms such as medical communication agencies that handle all of the meeting logistics, including inviting attendees.
Roles for Medical Communicators
Medical writers play a part in this process. Each company has a different protocol, but in general, medical writers may be asked to
Identify KOLs and HCPs who could serve as advisors and participate in meetings
Prepare pre‑meeting and post‑meeting surveys and organize responses
Develop meeting materials such as slide decks
Create an executive summary that summarizes advisor feedback and key takeaways from the meeting
The International Federation of Pharmaceutical Manufacturers & Associations (IFPMA) has developed a Code of Practice to ensure that the companies adhere to strict ethical standards. The code discusses issues of transparency and regulates interactions with health care professionals, including advisory board members.
3 Stages of Involvement for Medical Writers
The medical writer's role can be divided into three stages: pre‑meeting stage, meeting stage, and post‑meeting stage.
1. Pre‑meeting Responsibilities
Before the meeting, medical writers might be asked to research the backgrounds of KOLs and identify those who would be good candidates to invite to the meeting. To do so, the medical writer needs to be clear about the objectives of the advisory board meeting and understand what specific information the pharmaceutical company hopes to obtain from the advisors. Medical writers might do research or literature reviews, prepare questionnaires for the advisors, and assist with the development of meeting materials.
2. Meeting Responsibilities
During the COVID‑19 pandemic, advisory board meetings moved online, but whether the meeting is in person or virtual, the medical writer will need to arrive on time and attend the entire meeting. If the meeting is virtual, the medical writer will often be a silent observer—they won't be on camera, but they will be expected to listen carefully and capture important points. During in‑person meetings, medical writers can introduce themselves and engage in casual conversations with advisors, as appropriate, but they typically sit quietly in the background taking detailed notes of the proceedings. Virtual meetings are usually recorded with the understanding that the recording will be used only for the purposes of creating the executive summary and will be destroyed after post‑meeting documents are prepared and approved. In‑person meetings may or may not be recorded, depending on company protocol.
3. Post‑meeting Responsibilities
After the meeting concludes, the medical writer will prepare an executive summary that succinctly summarizes the discussions that took place during the meeting. In the past, executive summaries were often created as Microsoft Word documents. Some companies are now requesting that executive summaries be in PowerPoint. Another recent trend is to create a shorter "express summary" within 48 hours of the end of the meeting and a longer executive summary several days later.
The information obtained from medical advisory boards is proprietary and the final summaries are for internal use only.
Tips for Medical Writers from Peers and Experts
On the AMWA Engage bulletin board, where professional and freelance medical communicators discuss topics relevant to the field, several people were seeking to understand what "covering" an advisory board meeting entails.
Some of the advice includes:
Be up front about your experience. If you are bidding on a job, you need to be transparent about your experience, and whether you have completed these types of tasks for clients in the past.
Clarify the assignment. If you are approached as a freelancer, it's important to know who is requesting your services: a medical communications agency or a pharmaceutical company.

Set your rate.

Before you agree to do it, determine what you will charge. Are you going to charge by the hour, or will you charge a fixed fee? Learn more about freelance contracts in this blog post. Information on compensation for medical communicators is available in AMWA's Medical Communication Compensation Report.
Get clear on deliverables. Responsibilities for medical writers vary, so you'll need to learn what the client is seeking: pre‑meeting, meeting, or post‑meeting documents.
Ask permission to record. Advisory boards are often highly confidential, so you should not record without permission. If it is allowed, you can make a backup recording on your phone (the iPhone Voice Memos app works fine). If recording is not allowed because of confidentiality rules, you'll need to take detailed notes.
Take excellent, detailed notes. Even if the meeting is recorded, capture key concepts and quotes verbatim for the follow‑up materials.
Request samples of previous materials. Previous executive summaries, slide decks, and other meeting materials can help you meet the client's expectations.
Request a participant list and presentation slides. Having these items in hand during the proceedings will help you follow along and take better notes.
Gain Experience
If much of this is new information, Cathryn D. Evans, past president of AMWA, recommends attending a nearby medical conference to get experience covering it as you would for a client.
Evans says most conferences will accept an AMWA membership card as a press pass. If you are already a member of AMWA, you can sign in here to get a printable card.
"Do everything you would have to do for the client and write up a summary of one or two meetings," says Evans.