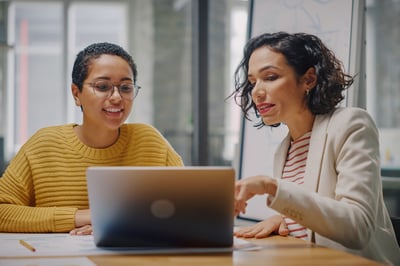 Apprenticeships are an age-old institution used to guide people in their careers and help them develop the skills they need to succeed. AMWA has an ongoing interest in exploring the value of apprenticeships and similar training programs, including hosting the Fourth Annual Medical Writing Executives Forum, which took place during the 2022 AMWA Medical Writing & Communication Conference.
Careers in medical communication require a number of basic qualifications and skills, which can be enhanced by participating in a medical writer apprenticeship. Where do prospective medical writers go to find the training that will launch their professional journeys? What types of apprenticeships and programs are employers developing to advance the specialized skills and increase the value of their workforce?
Basic Qualifications and Skills
Before seeking an apprenticeship, aspiring medical writers should first assess whether they have the basic qualifications to enter the profession.
Most medical communicators have earned a degree (bachelor's, master's, or doctorate) in the life sciences, medicine, pharmacy, journalism, communications, or a similar field. They need to be good writers and to be passionate about transforming often raw and complex scientific content into quality documents that are clear, concise, and structured.
Creating medical and health care documents requires a specialized set of skills. Excellent communicators with an appetite for learning who are adaptable, creative, and eager to hone new technical skills and learn new writing styles can create a niche in the medical writing field. A good place to start regardless of the baseline level of experience is learning the essential skills of medical writing through online or onsite courses and webinars.
Before applying for an apprenticeship, interested writers may be asked to complete a writing test, provide writing samples, and/or complete an interview.
What Do Medical Writing Apprenticeships Entail?
Apprenticeship creates an alternative pathway for new medical writers who lack experience, regardless of whether they have an advanced degree or certificate. In general, organizations offering apprenticeships for medical writers provide mentorship through comprehensive and intensive on‑the‑job training that is focused on the requirements of medical writing along with developing interpersonal skills, collaboration with internal and/or external colleagues, and mastering competencies by working with various project teams.
Medical writing is a diverse profession, so the training will vary depending on the intended audience and work expectations. An apprenticeship program should aim to instill the basic knowledge and skills required across relevant medical writer roles.
For example, a curriculum could cover techniques of scientific communication strategy, scientific document writing/editing and publishing standards, document project management, basic understanding of scientific and biostatistical principles, the company's standard operating procedures (SOPs) and policies, industry regulations and guidelines, and computer software and systems (e.g., MS Word, Endnote, etc.).
Some larger, well-established companies have robust apprenticeship programs in place to train new medical writers. However, smaller companies may believe they lack the resources to offer apprenticeships and may rely on others to provide the necessary training.
To better understand the landscape of medical writer apprenticeship programs, AMWA created and distributed a survey in 2022. The survey explores apprentice programs, and the results helped the Apprenticeship Framework Working Group to begin work on a resource for companies that want to develop apprenticeships.
Survey Findings
The medical writer apprentice program survey targeted 78 individuals who were responsible for leading, training, or developing medical writing teams. The largest percentage of survey participants worked at pharmaceutical/biotech/medical device companies (44%). In addition, 23% worked at contract research organizations (CROs), and 10% worked at medical writing consultancies.
The most significant finding was that less than half (42%) of the respondents' companies currently have an established apprentice program. The survey respondents reported established medical writing apprentice programs in
73% of CROs

57% of medical writing–specific consultancies

24% of pharmaceutical/biotech/device companies
Whether or not their company had an apprenticeship program, participants indicated that a standard framework would be a useful resource.
Goals for Apprentice Programs
The survey further explored apprenticeships with the respondents whose companies had established apprentice programs. The majority (74%) of those surveyed said the primary goal of the program was to make sure medical writers have the context and skills needed to perform the job. Another common goal (41%) was to expand the talent pool for medical writers.
Clearly, more organizations need to understand the value of apprentice programs, both to increase the bottom line and to attract and retain talented professionals.
While we await further development of apprentice programs, medical writers can tap into existing resources to help them to find places in this growing ecosystem.
Finding a Medical Writing Apprenticeship
A medical writing apprenticeship is an excellent choice for receiving professional training in medical writing. Interested writers can use search engines or social media platforms to explore advertised job vacancies for trainee medical writers.
Training Content
Apprenticeship offers a hands-on learning opportunity to acquire medical writing skills. The training content varies depending on the company's requirements, but typically it will involve the following:
Creating structured, well-formatted, accurate, and high-quality scientific documents from available unstructured content, using either a document template or standard guidelines such as ICH guidelines or the company's guidelines/SOPs. Content can be communicated to target audiences through various media, including slide decks, posters, manuscripts, regulatory documents, and more.

Editing documents; correcting errors in spelling, punctuation, and grammar to maintain consistency and ensure clarity, accuracy, and uniformity; and removing redundant or unnecessary information.

Understanding medical terminology (always good as a refresher, but especially helpful if someone does not have a medical/science background).

Using authoring tools, software, and templates to create documents. Medical writers should be tech-savvy and flexible about learning new software. Examples include

Microsoft Office, particularly Microsoft Word with add-ins, or Office 365

Adobe Acrobat standard

Online software such as PerfectIt and Grammarly

Endnote or RefMan for citation and reference management

Using document management systems and storage tools, such as

Dropbox, OneDrive via Office 365, Egnyte, SharePoint, and Google Drive for data sharing

Cloud, and Livelink for data storage

Using Web conferencing tools such as Zoom, Webex, BlueJeans, GoToMeeting, Zoho Meeting, and Skype for Business
Learn about the Audience
Medical writers need to be adaptable to different writing styles for different target audiences such as health care professionals, patients, and local/international regulatory agencies. Apprenticeships can help someone refine their expertise and improve their efficiency in writing those documents. For example,
Writing manuscripts for publication in medical journals requires knowledge of good publication practices and guidelines and the ability to find and follow the editorial guidelines of the target journal.

Writing for medical communication agencies means learning to write content for the materials they produce, such as brochures, posters, and slide decks.

Regulatory medical writers need to understand the drug development process and the documents required by regulatory agencies overseeing drug approval.
Education and Training Are Key
For companies, medical writing apprentice programs can help boost the bottom line while expanding the pool of qualified applicants. For aspiring medical writers, a medical writing apprenticeship provides an excellent opportunity to help build a strong foundation for a career in the field. It provides formal, structured, and rigorous hands-on training on medical writing tools, techniques, and standards.
Medical writing apprenticeships also teach project management and soft skills, which are equally essential for success in this demanding and rewarding career.
---
The article was originally published on July 22, 2019, by Kavita Garg and was refreshed and republished by AMWA with approval from Kavita Garg.