By Donald Harting, MA, MS, ELS, CHCP, President, Harting Communications LLC, Downingtown, PA, and Ruwaida Vakil, MSc, Principal, ProMed Write LLC, Somerset NJ
A needs assessment (NA) is any passage of text that documents the need for instruction on a particular topic among physicians and other health care professionals. This NA may also be called a gap analysis. Normally the NA is just one part of a larger document, often called a CME grant proposal. Typically this larger document will also include sections on budget, audience generation, and outcomes analysis (Figure 1). A proposal for an accredited activity will also contain some indication of how many continuing education credits may be awarded and information about the organization awarding credit. These additional sections are NOT included in this blog.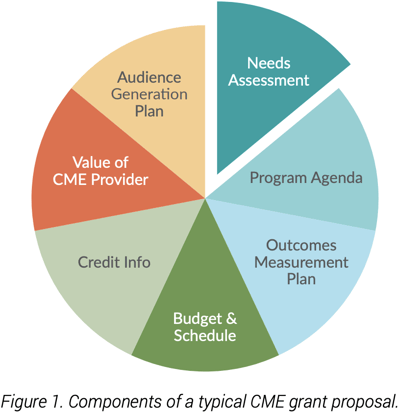 Importance
A well-written NA can serve as the foundation for one or more educational interventions, including instructional content and outcomes measurement. For this reason, a professional NA is considered part of good instructional design. NAs are often recommended by the organizations that confer continuing education credit for health care professionals, such as the Accreditation Council for Continuing Medical Education (ACCME). Commercial supporters also often require NAs as part of an educational grant request. Publishing and education companies operating within the accredited CME system often assign the task of developing the NA to an in-house or freelance medical writer; proposal assembly, editing, and submission are usually handled by staff employees.
Getting Started
Many clients have templates they can provide to you for NAs. These templates generally require you to develop the following areas.
A brief disease-state background
Gaps in current clinical practice
Current standards of care
Educational needs
Therapies under development
Learning objectives
Practice guidelines
---
The following AMWA Mini Tutorial content is a Members-Only Resource.
If you're a member of the American Medical Writers Association (AMWA) and don't see the mini tutorial content below, click here to log in and view it in the AMWA Online Learning portal.
---