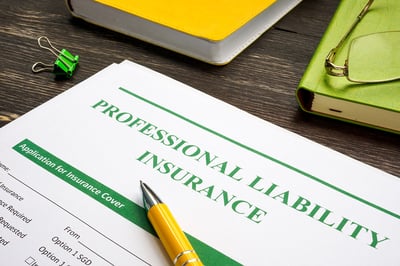 As independent businesspeople, freelance medical writers are responsible for acquiring their own insurance policies. Some types of policies are critical for operating a business, while others depend on the structure of one's freelance business.
Not all experts believe that professional liability insurance is a necessity for medical writers. However, the expectations and standards are evolving as the industry does.
Insurance Basics
Unless they are covered by a spouse's coverage, most independent businesspeople need to purchase their own health insurance. Long-term disability insurance is also a wise investment. Whether you need business and/or professional liability insurance depends on your tolerance for risk and whether your client(s) require it.
AMWA always recommends obtaining legal expertise when making decisions specific to your needs.
Consider Your Risk
Some experts believe your business structure is perhaps even more important than liability insurance.
Many freelancers within the AMWA community—on discussions in AMWA Engage or at Freelance Jam Sessions at conferences—have shared that certain business structures can provide a degree of liability protection.
For example, when a freelance business operates as an LLC or an S-corporation, personal assets are protected from liability. These entities serve to keep your personal and business assets separate, and unless you're acting unprofessionally or negligently, you shouldn't have anything to worry about.
However, the landscape of medical writing is large, and unique situations can arise. Therefore, your legal status as a freelancer may require further consideration.
In an article in Pencil Points #75, the free monthly newsletter from The Accidental Medical Writer, authors and freelancing experts Brian G. Bass and Cyndy L. Kryder explore this question of whether freelance medical writers need professional liability insurance coverage.
"[S]ometimes crazy things happen that are completely outside of your control. Like a lawsuit in which the lawyers shoot everyone and sort the innocent and guilty bodies later. It doesn't matter that you're ultimately not liable, you're still among the dead," the authors write.
In this cautionary tale published in WritersWeekly.com titled "3 Common Reasons Why Freelancers Get Sued—It Happened To Me!" author Emily Thompson shares her experience of being sued for breach of contract for missing a deadline. She hadn't noticed a clause in the client's contract that stated she was not allowed to work on other writing projects while working for that client. "As I learned the hard way, it's easier to sue a single person than it is a company. As an independent contractor, you're always at risk," writes Thompson.
Protecting Against Worst-Case Scenarios
As Bass and Kryder note in their Pencil Points article, professional liability insurance (also called errors and omissions) policies usually cost just a few hundred dollars a year. "Depending upon the nature of your freelance business, it may be wise to couple professional liability insurance with general liability insurance," they write. "These policies can be a bit more expensive, but it all depends upon your volume of business and exposure to risk. We understand some companies require you to carry both insurances."
Then they reinforce their previous advice: Form a recognized business entity and get professional advice on whether your circumstances warrant purchasing general liability and professional liability insurance.
Spelling It Out
Professional liability insurance is part of structuring a freelance medical writing business to succeed and thrive. It also intersects with the practice of using tools such as estimates and contracts to set realistic expectations.
When creating or reviewing contracts, those documents should cover the assignment of copyright and the limits of liability for the content produced. In an AMWA Journal article covering the 2018 Medical Writing and Communication Conference, Cathryn D. Evans writes, "If you are not a bylined author or a declared 'expert' in the medical field, the limits of your liability for content belong solely to the client. However, if you are a physician or claim other medical/therapeutic/statistical experience, then of course you will need to accept liability for the content produced by you. Make sure to include a section of the contract that states you are free of any liability for medical content. Especially with a pharma/biotech/HMO client, the company is 100% liable for content, as they select and/or provide all background material and they always have a final say on the end product (unless you have specifically agreed otherwise!)"
Freelance Success
Freelance medical writers—whether just getting started or advancing in their careers—can find myriad resources on structuring and creating a sustainable business, including AMWA's Ultimate Guide to Becoming a Medical Writer and Expert Tips for Freelance Medical Writing.
These tools are a way for experienced professionals to share their evolving understanding of issues such as liability.