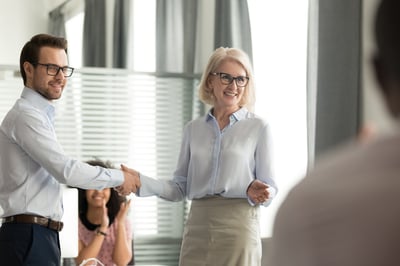 For some medical writers, a next step in their careers is a move to management. While this can create opportunities for advancement and greater recognition, it can be challenging—many medical writers are seasoned communicators, but they may not yet have the skills required to manage others.
To make a successful transition, these tips for new managers can help.
Tip 1: Get Ready.
The first step is preparation. Evaluate your current responsibilities and make an honest assessment of what skills and characteristics best translate to your new role. Get a clear understanding of what will be asked of you, and seek additional training if needed, whether it is taking a class, reading trade journals, consulting with other managers, or joining a professional organization like AMWA.
Tip 2: Set Boundaries.
Once in your new role, embrace the fact that you are now a manager, even if your duties continue to include medical writing or editing. Your job is not to be a friend or therapist to your new staff, but to be their manager. Stay resolved in your own commitment to do a specific job, and focus on improving employees' work performance and empowering them to succeed.
Tip 3: Learn to Delegate.
As a new manager, you will soon learn that you cannot do everything yourself, nor are you expected to. You've developed a great deal of technical expertise and knowledge of medical writing, but your job now is to use that knowledge to supervise others who are doing this work. Delegating is crucial, and it requires a solid understanding of your staff and their strengths, personalities, and career goals so you can assign tasks and deliverables accordingly.
Tip 4: Engage Your Team.
It is important to involve your staff in achieving not only their individual goals but also those of the organization. Get their buy‑in about objectives and timelines, and be very clear about expectations and performance indicators. Setting "SMART" goals that are specific, measurable, achievable, relevant, and time-based can help. This enables staff to know just how well they are doing, and it can help you to be more empowered and confident when the time comes to evaluate their performance.
Tip 5: Build Your Team's Capacity.
As a manager, it is up to you to build your team's capacity as medical communicators. AMWA's professional development opportunities provide an excellent basis for continuous improvement of your team's skills.
Tip 6: Set Realistic Expectations.
Successful medical writers are highly skilled and have high expectations for their own performance. When transitioning to a managerial role, many medical writers transfer those same standards to their staff. While this can be beneficial for the organization, it's important to keep things in perspective and give your staff time to grow and learn skills without being too demanding. Empower your team, and resist the desire to micromanage.
Tip 7: Be Consistent.
Fairness, reliability, and consistency can all go far in fostering team morale and bringing out the best in staff. Be fair when making assignments, and set firm objectives that help employees to measure their success.
Tip 8: Keep Communication Open.
Another strategy that can bring out the best in teams is sharing information from the top down. As much as you can, keep your staff informed about organizational strategies and direction and help them to see big-picture goals beyond your own department. This can build trust and keep staff more engaged and committed.
Tip 9: Develop Your Own Style.
Finally, one of the best tips for new managers is just to relax and trust in yourself. If you've been hired or promoted to the role of manager, you likely have displayed an aptitude that goes beyond writing and editing. By getting and staying organized, working toward team goals, and engaging and motivating your staff, your personal management style will develop. From there, it will continually evolve as you get more experience and exposure.
Expanding your role from medical writer to manager can be challenging, but management skills can be acquired and honed. To learn more tips for new managers from seasoned medical writing professionals, join AMWA for events and networking opportunities to boost your confidence and advance your career.