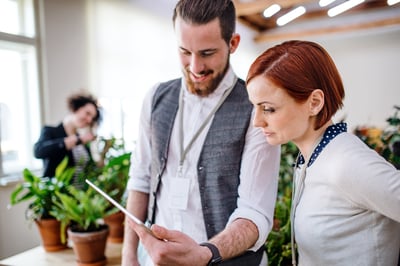 For freelance medical writers and editors, social media can help build authority, engage with colleagues, connect with potential clients, and grow their freelance businesses. But posting and sharing inconsistently, or using the wrong platforms, can waste time and energy. These social media marketing tips can help.

1. Pick the right platform
Managing your social media accounts could easily be a full-time job. To allow you to stay focused on freelance medical writing, one of the most important things you can do is to concentrate and streamline your social media marketing efforts. Focus on where your clients and potential clients are most apt to be. For freelance medical writers, that is often Facebook, Twitter, and LinkedIn. Trying to stay active on all social media platforms, from YouTube to Instagram, can spread you too thin and may prevent you from connecting with the audience you are trying to reach.
2. Build consistency
Once you know which platforms you want to focus on, do a thorough assessment of your profile on each one. Make sure you're presenting yourself in the best light with clear and consistent information. Check your professional name, website, contact information, and other descriptors to make sure they are current and relevant.
It's also important to take extra time to optimize your profiles on LinkedIn and the AMWA Freelance Directory. Even if you are a professional freelance medical writer and not seeking full-time work, LinkedIn is a forum for networking with other professionals, promoting your experience and expertise, and connecting with clients. Review other medical writers' pages and see how your profile measures up. In addition, the AMWA Freelance Directory is a direct resource for employers looking to hire freelance medical writers and editors. Both your LinkedIn and AMWA Freelance profiles can link to each other, so make sure they are aligned and are best showcasing your talents and skills.
3. Get social
Remember that social media is about being social. It is about conversations and connections. Once your profiles are set up on the best platforms, create a plan to post and share content on a regular basis. Some specific social media marketing tips regarding content include:
Add images or videos, which make your posts more likely to be clicked on than posts without visuals.
Share and retweet. This helps others to grow their audience and builds community among your followers.
On Twitter, use relevant hashtags to make your tweets more visible to your target audience.
Be interactive. Respond to your own posts and to posts that you are tagged in. Keep the conversation going.
You may want to explore social media management tools like Hootsuite or Buffer that can make it easier and more efficient to post across multiple platforms at once or to schedule several posts to happen at a later time.
4. Join groups
Facebook groups and LinkedIn groups are becoming increasingly popular as a way to connect with others in a specific industry or with a specific interest. For freelance medical writers, identifying groups based on employers, medical writing topics, or an area of expertise provides a direct route to clients and potential clients. Once in a group, you can use the forum to answer questions, share your services, or ask for assistance. Groups use the broad power of social media to connect with people in a smaller, more personal way. To get started right away, join the more than 6,000 professionals on the LinkedIn group "Link in with AMWA."
5. Check out your followers
Finally, take the time to look at who is liking, following, or connecting with you. This is a considerable untapped source of potential clients who have chosen to like or share your content or to connect with you as contacts or followers. These people are interested in what you have to say and may be ideal leads. On Facebook and Twitter, review your friends and followers. On LinkedIn, adjust your settings so you can see who has looked at your profile.
If you're a freelance medical writer, social media can be an important tool and an effective way to build your brand and grow your business.