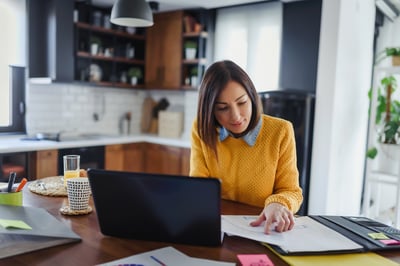 In Entrepreneur's May 2020 article "What You Can Learn from Freelancers Right Now," journalist John Boitnott outlined why freelancers are equipped with the best tools and practices for high‑quality, productive remote work.
If you're a newly remote medical writer, look to seasoned freelance medical communicators for advice. They've been working remotely for years — in some cases, decades — and have successfully navigated the challenges of remote writing and found a successful path forward.
Challenges of Remote Medical Writers
Shifting your in‑office role into a remote format isn't easy. Remote medical writers face challenges such as
Obtaining the technology necessary for remote work success
Ensuring supervisor and coworker expectations are met
Having all the information required to complete documents accurately and on time
Striking the right balance between constant connection and isolated autonomy
5 Remote Medical Writing Tips from Freelancers
Here are some freelance tips for addressing the challenges of becoming a remote writer — whether temporarily or for your entire medical writing career.
1. Schedule regular check‑ins
Team effort is challenging without face‑to‑face conversations. If your team doesn't already have a weekly or monthly virtual meeting on the agenda, ask about scheduling one. Team calls can help bridge the distance gap and set the context for email and other online communication.
As a remote medical writer, you'll want to stay updated on the following:
Company or industry news
Collaborative tools that are working well for others in the field
Updates on project timelines
Even if your supervisor doesn't want to schedule a recurring group call, you can suggest an ongoing check‑in time related to your personal projects.
2. Don't be afraid to ask for help or clarification
Even in the communication field, text‑based conversations can be misinterpreted or unclear. When in doubt, ask for clarification. It's always better to take time to clarify a writing task than to lose time rewriting the document later.
Remember that your peers and manager might be working remotely for the first time too. Work together to clarify objectives, ask questions, and get IT help as soon as it's needed.
3. Use task management and time‑tracking apps
It's just not possible to juggle medical writing projects, work communication, and personal notes with an email inbox alone. Use collaboration and/or task management tools to organize your projects, processes, and deadlines. Some remote team managers set up task management apps for the entire team. If you're not already using one, try some of these freelancer favorites:
Keep yourself on task with time‑tracking apps such as Clockify or Toggl. Many freelancers also increase productivity with the Pomodoro method, which breaks up the remote workday into 25‑minute blocks of focused work followed by 5 minutes of rest.
4. If possible, adjust your workday
In a standard 8‑hour workday at a company, medical writers might create documents in an office, cubicle, or other quiet private or semi‑private space. Working from home is different. Maybe you're working from the dining room table instead of a desk. Perhaps your children are running around the house or apartment. Or maybe you're constantly interrupted by your partner, roommate, or even texts and calls from friends with unconventional work schedules.
Work/life balance is challenging for remote medical writers, but it's not impossible. You might need to reconsider what an average workday will look like for you. Some writers focus best between 6 am and 1 pm. Others are more productive in the evenings.
Assess what works for you as a remote medical writer, then find out if your manager is amenable to beneficial adjustments.
5. Use vacation time
When thousands of people were forced into remote work arrangements at the beginning of 2020, many went into crisis mode. Working from home felt like a mad dash to meet deadlines, and weeks were filled with video conferencing calls in makeshift home offices.
Being a remote medical writer should come with the same benefits as being a medical writer in an office. You should feel free to take personal days and sick days. If you've earned vacation time, use it!
As a remote worker, you might feel tempted to check your work email to stay in the loop. Don't. When you do go on vacation, truly go on vacation: no work calls, no email. Whether you're jetting off to a tropical holiday or staying home, use your hard-earned time to decompress.