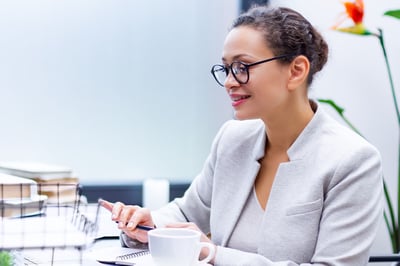 The hunt for freelance medical writers and editors begins when you have a need for a communication professional who can help you complete or improve your writing project. Sometimes you have an urgent need, and you don't know where to turn.
Your first call will be to trusted freelancers, people you have worked with before. As any client working on a tight timeline knows, chasing down new freelancers in a pinch is exhausting, time consuming, and stressful. The key is to cultivate successful partnerships so you have a pool of freelancers who are eager to work with you when you need them. Why are they eager to work with you?
They consider you to be an ideal client.
The professional relationship between a client and a freelance medical writer or editor is a two‑way street paved with expectations and boundaries. A successful partnership depends on both parties feeling valued, respected, and appreciated. To work effectively with freelance medical communicators, you need to clearly communicate your needs and expectations. You also need to be respectful of freelancers' boundaries and expectations.
What to Look For in a Freelance Medical Communicator
As a client, your satisfaction depends on a combination of 3 components: consistent high quality, outstanding value relative to price, and prompt delivery. Here are some important attributes to expect in a freelance medical writer or editor:
Dependability and reliability: You should expect the freelancers you hire to meet deadlines, respond in a timely manner, and deliver high‑quality service at a reasonable cost.
Affability: All of us prefer to work with people who are positive rather than those who are negative and pessimistic. You want to hire professionals who are easy to work with, who are personable, and who have can‑do attitudes.
Flexibility: Let's face it, most projects don't go as planned. That's why it's important to hire freelancers who can go with the flow and have the ability to adapt to changing project needs without drama.
Commitment and engagement: You want to work with freelancers who really care about the success of the project and are genuinely enthusiastic about meeting your needs.
What About Technical Skills?
Certainly you want freelance medical communicators to be able to write or edit, and, on occasion, interpret data, serve as project managers, and provide direction for the development of graphics and other forms of visual communication.
To perform their jobs well, medical communicators need, at the very least, a core knowledge of the mechanics of writing and editing, hands‑on experience with a variety of document types, an understanding of ethical practices and the role of professional medical communicators, and emotional intelligence that encompasses a range of soft skills, such as those listed previously.
Professionals who have earned credentials such as the Medical Writer Certified (MWC®) credential, Editor in the Life Sciences (ELS), and Certified Medical Publication Professional (CMPP) have demonstrated established standards of proficiency in their respective fields.
How to Be the Ideal Client
From a freelance perspective, the ideal client is one who provides the input and direction they need to do their jobs well, who values their expertise and talent, who pays invoices fully and promptly, and who respects their boundaries.
What are those boundaries? Here are a few to keep in mind:
Stick to the timeline. Freelancers usually juggle multiple clients and projects simultaneously. When you cause a delay on your end, don't assume freelancers can automatically adjust. Ask about their availability before revising the timeline.
Don't expect freelancers to work 24/7. If freelancers choose to work at night or on a weekend, that's their choice. If you need or expect them to work beyond normal office hours, make your expectation clear and gain their agreement before the project begins.
Email has an "off" button. When freelancers walk away from their desks at the end of the work day, they walk away from work. An email sent after 5:00 PM is for the morning, and an email sent at 5:00 PM on a Friday is for Monday morning.
Freelancers are not your employees. Experienced freelancers are very good at balancing their workloads so that everything gets done on time, on target, and on budget. How and when they do it is up to them. Trust them. Their schedules aren't yours to command or control.
Where to Find Freelance Medical Writers and Editors
You can find freelance medical writers and editors through these online directories that you can search for free: