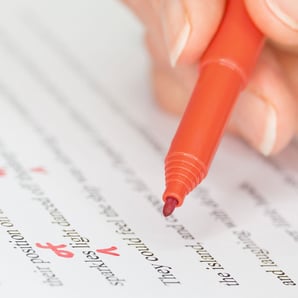 Writing and editing go hand-in-hand to create a masterpiece. A well-written article is like a fine piece of jewelry. Think of the content as the design of the jewelry and the editing as the polish. Just as a ring without polish looks like a piece of lackluster metal with a potentially beautiful gem, a poorly edited article loses its charm even if the content is strong.
For most writers, editing is a bland job they want to push away as far as possible. After all the hours of hard work invested in putting the content together, it can be hard to enter the "edit" mode. Sometimes, editing takes even more time than actual content creation. Editing one's own work almost always appears challenging; being too close to the content makes it hard to pinpoint the errors that hide in plain sight in the document. This is where professional editors come into play. These experts are trained to check not only grammatical and spelling errors, but also pay attention to the flow and clarity of the article. Thanks to an increasing workload, editors are now looking for ways to enhance their editing productivity. The advent of an impressive array of competent software and apps has taken the world of medical editing to a whole new platform.
Why do you need to edit an article?
Scientific writing is a roller coaster ride; writers have to keep in mind innumerable details while developing a manuscript. When the primary focus is on creating content, editing can often slip through the cracks. First drafts are rarely perfect, and you can never afford to present low-quality content to readers. This is what makes a comprehensive edit so important. Scientific editors can help alleviate, to a significant extent, the pressure built into the publication process for academic researchers. The goal of editing is to ensure that the content and design of the document suit its purpose and meet the needs of its audience.
What skills make you a great editor?
An editor does not necessarily need to do a lot of writing; however, he or she does need to have an expert eye to catch and correct any errors and ensure the document is clear and concise. An editor has the freedom to delete sentences, reorganize content and rewrite entire paragraphs. Editing is a tricky job, and every editor has his or her own style. The following are a set of skills you'll find in every successful editor's kit.
Accuracy – If you want to excel as an editor, you must show a lot of attention to minute details. The best editors not only demonstrate precision in editing; they also avoid redundancy.
Balance – Balance is key. You will constantly face the challenging task of skillfully balancing the interests of both the authors and the intended audience(s).
Multitasking – Don the juggler's hat! Working on multiple projects at different stages of completion under tight deadlines is going to be part of everyday life.
Diplomacy – You will be working closely with experts. It is important to be able to negotiate well with them in order to meet those all-important deadlines.
Team Player – You have to be an exceptional team player working effectively with subject matter experts, writers, graphic artists, animators, and publishers, to reach the final goal under the set deadline.
Communication – Your communication skills, both verbal and written, should be excellent. You will be working with multiple teams; hence clear communication by e-mail, phone, or in-person meetings is critical to avoiding costly confusion in the process.
What tools will make your work easier?
Gone are the days when pen and paper were an editor's best friends. Today, a computer or a digital pen and tablet have become an editor's most valuable tools. Like other medical communicators, time is a valuable resource for editors. Thanks to technological advances, they are now armed with an impressive set of tools to create polished content for readers at a much faster pace. Most editors work with advanced software and publishing platforms to receive and share documents with other team members. Popular editing productivity software tools include After the Deadline, Hemingway App, WordRake, and Byword. These tools, many of which offer plugins or the ability to integrate with your browser, can help with
Improving spelling and grammar
Eliminating repetitiveness
Enhancing readability
Detecting plagiarism
Cutting out unnecessary words and phrases
What other resources can help you edit smart and edit fast?
Websites
In addition to our free medical editing checklist, here are a few websites that can help you improve your editing skills. You'll find information on latest editing tools as well as useful editing tips.
Style Manuals
A style manual is a set of standards that provides uniformity in style and formatting across different documents. I've found these style guides particularly valuable, and I think you will, too.
Should you get certified?
A medical editing career involves lifelong learning. No matter how good an editor you think you are, training will always help sharpen your skills. Moreover, certification adds strength to your resume. There are two certifications that are particularly valuable for medical editors to consider.
Tips for becoming the one editor everyone wants to work with!
A medical editor once wrote, "Children dream of growing up to be doctors, lawyers, teachers, or firefighters—but some of them end up, quite happily, as editors." (Whalen E. Why we edit. Am J Roentgenol. 1989; 152(3):647-649.)
With this inspiration in mind, here are some tips to help you succeed as a medical editor.
Be adaptable and open to learning new tools.
Stay up to date with the most recent trends.
Know your deadlines and make a point to meet them. Delay in delivering a project does not look good at all.
Editing apps will make your life much easier, so be on the lookout for the latest and greatest!
Maintain an active presence on social media; it helps build a strong network.
Join an editing/writing community.
Attend conferences regularly.
Remember, your brain is your most prized magic wand! Do what works best for you. Combine your unique skills with these editing tools and tips, and you will successfully create appealing, insightful content for your target audience.