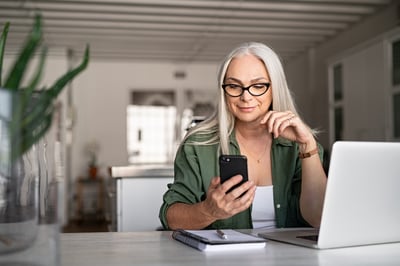 This article is based on content presented by Laura J. Ninger, ELS, at the AMWA Medical Writing & Communication Conference.
Laura Ninger, a freelancer since 1994 and business owner since 2007, shared her experience from over 25 years working in medical communications to help medical writers and editors build and maintain their freelance businesses.
The 10 criteria are not necessarily in order of importance; rather, Ninger emphasized that freelancers should decide for themselves the most important points for their freelance writing and editing business.
1. Be Businesslike
Market yourself in a way that makes sense for your freelance writing business. This can be active marketing, such as sending snail mail or email to prospective clients, or passive marketing, such as posting your profile in a freelance directory, answering online ads, and maintaining a website. Your online behavior also represents business marketing, so remain professional, avoid typos, and consider separating your business and personal social media accounts.
Ninger recommends having backup plans, including multiple clients, a spare computer, extra cash, insurance, a colleague referral list, an accountant, and other professionals as needed. To streamline business tasks, use templates, editing checklists, and relevant software.
2. Educate and Certify
Ninger recommends maintaining key professional memberships, such as AMWA and other organizations within your niche.
You may choose to complete a medical writing program or obtain certifications such as the Medical Writer Certified (MWC) from AMWA, the Board of Editors in the Life Sciences (BELS) certification, and others. Consider attending meetings and webinars, reading applicable books and blogs, and delivering presentations as a way to self‑educate.
3. Establish a Medical Writing Niche
Although medical writing/editing is already a niche, you can choose to specialize further based on expertise, therapeutic area, document type, and audience.
There are pros and cons to specializing—you can earn higher rates, but the work can become monotonous, and market instability in your niche can disrupt your freelance writing business. Generalizing has pros and cons as well—you are continually learning new things, but prospective clients may believe you have insufficient knowledge for their specific line of work.
4. Network
You don't have to love networking, but it's a necessary part of business. Introverts need to just get started and practice until it becomes easier. Although social media is a great way to network, Ninger notes that "real" networking happens in person. This can be done through professional organizations by attending annual meetings, chapter events, workshops, meal events, and even "how to network" sessions.
5. Deliver on Promises
Discuss all job details up front, such as the client's responsibilities, the freelancer's responsibilities, and deadlines. When presented with a contract, read every word and make sure you understand it; consult an attorney if needed. Communicate during the project, be available by email, and keep detailed email and project notes. Provide high‑quality work on time; meet or anticipate deadlines.
6. Maximize Earnings
Charge a reasonable rate based on your education and experience. Use tools such as the AMWA Compensation Report to get an idea of what you should charge. Be wary of "lowballing" your rates—this tends to "snowball" into a chain of low‑rate projects. Consider project versus hourly rates, depending on the client, your negotiation skills, and other variables. Ninger recommends avoiding "trial pricing" and "volume discounts."
7. Consider Legal and Tax Issues
When setting up your freelance writing business, hire professionals and consider business protections such as legal/tax entity (eg, LLC or corporation), TIN versus SSN, and errors and omissions insurance.
Be aware of changes in tax law and issues with contracts; pay especially close attention to contracts with indemnification clauses, do‑not‑compete agreements, or nonsolicitation clauses.
8. Be Your Own Best Advocate
Keep in mind that the only thing worse than losing an iffy job is getting it, and then regretting it.
Don't be afraid to say no to projects, especially if you can refer the work to others. When negotiating your rates, take time to mentally prepare, and consider setting your "walk away" point beforehand.
Women should be aware of wage bias, even for freelancers. If you see issues with the contract, speak up!
9. Give Yourself a Report Card
Record your hours and pay for every project. Conduct a year‑end review to evaluate your freelance writing business earnings (calculate an effective hourly rate), client mix, projects, marketing efforts, and trends over time. Review the results—did you reach your business and personal goals? Set new goals for the next year.
10. Don't Take It Personally
Other freelancers have different business models, skill sets, and earnings. You can learn from others, but it's not productive to compare yourself to others. Your true competition is you.
When difficult clients blame errors on freelancers, pay late, or make belittling remarks, don't take it personally. Be polite to these clients, while actively looking for new ones.
A freelancer is a business person. Market your freelance medical writing business, network, enhance your skills, deliver high‑quality work on time, maximize your earnings but spend when needed, and review your business practices periodically.