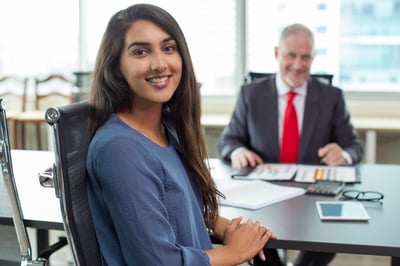 Recruiters can make all the difference when advancing your medical writing career. Experienced recruiters can help you identify a role that increases your earning potential, improve your work/life balance, and move you up to a senior-level position.
Many medical writers aren't sure how to effectively find and work with recruiters. Some may not think they need to work with recruiters. However, used in conjunction with other job search strategies such as industry job postings (available to AMWA members), working with a recruiter can be a good way to make critical connections that will help you land your ideal next job.
What exactly is a recruiter?
There are two types of recruiters: corporate recruiters and third-party recruiters.
Corporate recruiters work internally at an organization and are paid to find candidates to work at their company.
Third-party recruiters typically work for agencies and recruit for many companies who are looking to fill permanent, contract, and temporary jobs.
Experienced medical writers may benefit more from working through third-party recruiters hired by clients to find exactly what they are looking for in a medical writer.
Recruiters are sometimes colloquially called "headhunters."
As a job seeker, you do not pay recruiters; they are paid by the employer.
How can recruiters help medical writers advance their careers?
Recruiters provide medical writers with insider information about the company they are applying to. For example, recruiters
May have knowledge about the hiring manager, team, and culture of the organization.
Can help you prepare for interviews, understand the company's benefits package, and negotiate salary.
Are available to answer questions about the company's hiring process, retention, and employee satisfaction.
Can experienced medical writers benefit from working with recruiters?
Medical writers with a variety of backgrounds and experiences can benefit from working with recruiters. For new medical writers, recruiters can identify positions that are appropriate for an entry-level skill set, whereas for experienced medical writers, they can identify positions that provide career advancement or a specific career change desired by the writer.
One of the biggest ways recruiters help medical writers is through connections. Recruiters have access to a vast network of people, including both companies and professional organizations, so they can not only connect job seekers with posted positions, but also introduce them to colleagues who may be hiring in the future or know others who are.
A recruiter can be useful even if you already know what job you want to apply for. When you apply for a job, search LinkedIn to see whether you know people who work within the company and can identify the recruiter hired to find candidates for the job. Having a personal connection can often mean your application will stand out among those of other applicants.
What should experienced medical writers look for in a third-party recruiter?
It's important to find a recruiter who matches your background and interests. When connecting with recruiters, be sure to communicate your experience, skill level, and what you're looking for in your next opportunity. Some recruiters are focused on helping entry-level medical writers find a job, while others have more expertise with medical writers looking to advance with a career move.
How should medical writers choose among recruiters?
Sometimes medical writers are contacted by multiple recruiters for the same position. When you're consulting with recruiters, make sure you choose someone who can best highlight your experience so that you stand out. Vet your recruiters as you would expect to be vetted during an interview.
What are the dos and don'ts of working with recruiters?
In general, the following are best principles for working with recruiters.
Do:
Be ready to collaborate with your recruiter.
Be honest and upfront about your experience and skills.
Follow up promptly with questions and additional information.
Don't:
Be pushy.
Go above your recruiter for answers or application status.
Be unresponsive to emails and calls.
How can medical writers connect with a recruiter?
Recruiters can be found through job boards, Google searches, and especially LinkedIn. When reaching out to a recruiter via LinkedIn, try to see whether you have any mutual connections and ask for an introduction. Be sure to include what you are looking for in your next opportunity. You may also be contacted by recruiters on LinkedIn as well.
Another way to connect with recruiters is through industry events, such as the AMWA Medical Writing & Communication Conference, where recruiters are known to exhibit and even present.
Working with a recruiter can provide a significant advantage when advancing your career and applying for jobs. As you network with professionals in your community, current and past colleagues, alumni at your college, and professional organizations, be open to connecting with others. You never know when a contact may help you advance your career, or when you may be able to help them.