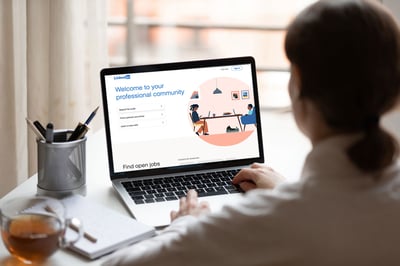 This article is based on content presented by Lori De Milto, MJ, Kelly Schrank, MA, ELS, and JoAnna Pendergrass, DVM, at the AMWA Medical Writing & Communication Conference.
As a freelance business owner, you probably enjoy the freedom of setting your rates and work schedule. However, the other side of the coin is that you alone are responsible for building your client roster.
Experienced freelance writers recommend marketing your services even when your schedule is packed. This helps you stay visible in case you need to take on new clients or want to trade a bad client relationship for a better or more lucrative contract.
LinkedIn is one of the best places to market your services. Below, find out how to maximize your LinkedIn presence to find and attract better clients.
Attract Clients with Your Profile
Wouldn't it be nice if potential clients would come to you? A thoughtful, client-focused LinkedIn profile can make that happen.
A complete profile includes the following:
A professional headshot in which your face fills about 60 percent of the frame
An informative and engaging headline that mentions you are a freelance medical writer
A complete list of skills and medical writing experience
At least 50 connections
Once your profile is complete, it's time to think like a client. Which keywords are they likely to type into the search bar when seeking a medical writer or editor? Include those keywords in your headline and About section.
Some examples:
The types of services you offer
Your clients' target audiences
Industry-specific words or phrases
The LinkedIn profiles of these AMWA members and conference speakers Lori De Milto, Kelly Schrank, and JoAnna Pendergrass are examples of strong, client-focused LinkedIn profiles.
Build Your Freelance Network
Once you have a strong, client-focused profile, it's time to build your LinkedIn network. Relevant connections (people involved in medical communication or your clients' industries) will help you rank higher in LinkedIn search results.
A robust network has 500 or more relevant connections. Your connections could include:
Clients
Former clients
Other medical communication professionals
Other freelance writers
Colleagues from professional associations
University connections
LinkedIn allows you to see who is connected to your connections, which can help you expand your network naturally. Boost your chance of connection by clicking "add a note" whenever you send an invitation to connect. Explain why you're interested in connecting, and mention something you have in common when possible.
Boost Your Visibility by Participating
Staying active on LinkedIn will help you rank higher in search results and get noticed by potential clients. There are four main ways to participate on LinkedIn:
Comment on posts. This is one of the most effective ways to build your presence on LinkedIn. Each comment puts your name and title in front of a broader network than your own. You never know which potential clients might engage in the conversation.
Write posts. Comment on industry news, and offer insights or inspiration to your connections. Keep your posts professional and focus on adding value. Occasionally, you can post about your work.
Share posts. Sharing posts is an easy way to spread helpful information and build rapport with the posts' authors.
Like posts. This is the most effortless activity, but it's also the least noticeable. Still, liking a post can mean a lot to the person who published it.
If you're new to LinkedIn, these steps might sound overwhelming. However, once you have a complete profile, LinkedIn activity can be easily built into your workday. It takes just 20 minutes on LinkedIn a day to boost your freelance business.