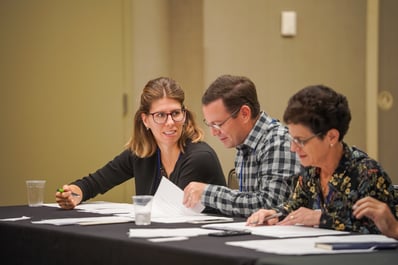 For most medical communicators (and humans), time is one of our most valuable resources. When I think about whether to attend a professional conference, I have to consider its value. Who am I going to meet? What am I going to learn? How will this conference bring value to my business and career? I think we should also add another question to this assessment list: Will this experience reinvigorate my passion for my work? Will this time add to my personal development?

What makes the AMWA 2019 Medical Writing & Communication Conference so unique is that it provides opportunities for both professional and personal growth. Taking place in sunny San Diego, known for its incredible weather and beautiful surf, this year's conference invites you to "dip your toes" into an ocean of opportunities in medical communication. You might just be able to "have it all" as you learn from leading experts and enjoy a serene and invigorating setting.
Take the Plunge
This will be my 11th annual conference. I attend every year because it truly is the largest (and friendliest) collection of people that do what we do; it's dedicated to bringing people together from all specialties of medical communication. Each year, I meet someone new, and I find a new tool or concept that radically makes my life and business better. With over 50 education sessions, 32 AMWA Workshops, 12 networking events, and 3 award-winning speakers, my only concern is that I cannot be in two places at once!

That's why I'm planning my conference schedule by identifying sessions within the content focus areas that align with my specific interests and goals. For me, that's writing/editing, and science and medicine. For you, it may be regulatory writing, scientific publications, or health communication. I encourage you to create the learning experience that's right for you!
Chill Out
In response to a request from the AMWA membership, this year's conference features sessions on mindfulness, organization, self-care, health, and fun. In these health and wellness sessions, you can learn how to manage time and stress, create efficient saving strategies, and discover how fitting in fun can make you a better medical writer. I'm particularly looking forward to the morning walk/run and yoga activities to get my day started right!
Dive Deep
I am most excited to attend a new session format this year—Med Write Talks. Similar to the popular TED Talks, these 10- to 15-minute presentations of compelling stories and calls to action will be dynamic, inspiring, and thought-provoking. Focusing on discrete medical communication-related topics with a novel insight or angle, I expect these engaging talks will infuse the conference with a positive energy.
Hang Ten
I consider the conference a "family reunion." Each year I look forward to catching up with friends and colleagues as well as making new connections. The conference provides a warm and welcoming environment that makes it easy to be part of the AMWA family. The face-to-face interactions and the opportunity to be surrounded by peers who understand and can relate to the work that I do – it's invaluable.
Make the Case
Maybe you don't have to convince yourself, but you may need the support of others in order to make the commitment to attend. We've got you covered!

Check out these documents that outline how the conference addresses specific needs for you as a medical communicator, whether you are an employee, freelance, or student. This template memo will also help you gain support from your employer to attend the conference. It describes the conference's key selling points, a cost breakdown, and other details that demonstrate its value.
Be Inspired and Join Us!
Join me and the rest of the AMWA community in San Diego in November to reinvigorate yourself both professionally and personally. As you will discover, the AMWA conference experience is like no other. I hope you will walk away from this event with a more "sunny" disposition and that new, positive relationships and ideas will take root.